John Lennon


'

Birth name

John Winston Lennon

Born

9 October 1940(1940-10-09) Liverpool, England

Died

8 December 1980(1980-12-08) (aged 40). New York City

Occupations

Musician, singer-songwriter, record producer, artist, writer

Genres

Rock, pop

Instruments

Vocals, guitar, piano, harmonica, harmonium, electronic organ, six-string bass

Years active

1957–1975, 1980

Associated acts

The Quarrymen, The Beatles, Plastic Ono Band, The Dirty Mac, Yoko Ono
John Winston Ono Lennon, MBE (9 October 1940 – 8 December 1980) was an English musician and singer-songwriter who rose to worldwide fame as one of the founding members of The Beatles, one of the most commercially successful and critically acclaimed acts in the history of popular music. Along with fellow Beatle Paul McCartney, he formed one of the most successful songwriting partnerships of the 20th century.
Born and raised in Liverpool, Lennon became involved as a teenager in the skiffle craze; his first band, The Quarrymen, evolved into The Beatles in 1960. As the group disintegrated towards the end of the decade, Lennon embarked on a solo career that produced the critically acclaimed albums John Lennon/Plastic Ono Band and Imagine, and iconic songs such as "Give Peace a Chance" and "Imagine". Lennon disengaged himself from the music business in 1975 to devote time to his family, but re-emerged in 1980 with a new album, Double Fantasy. He was murdered by Mark Chapman three weeks after its release. [1][2]Lennon, left, and the rest of The Beatles arriving in the US in 1964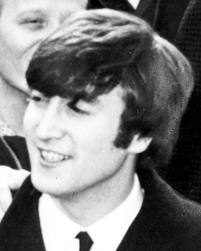 Lennon revealed a rebellious nature and acerbic wit in his music, his writing, his drawings, on film, and in interviews, and he became controversial through his political and peace activism. He moved to New York City in 1971, where his criticism of the Vietnam War resulted in a lengthy attempt by Richard Nixon's administration to deport him, while his songs were adopted as anthems by the anti-war movement.
As of 2010, Lennon's solo album sales in the United States exceed 14 million units, and as writer, co-writer or performer, he is responsible for 27 number-one singles on the US Hot 100 chart. In 2002, a BBC poll on the 100 Greatest Britons voted him eighth, and in 2008, Rolling Stone ranked him the fifth-greatest singer of all-time. He was posthumously inducted into the Songwriters Hall of Fame in 1987 and into the Rock and Roll Hall of Fame in 1994.
19
[
]
57–65: Formation, commercial breakout, and touring
[
]
The Beatles evolved from Lennon's first band, the Quarrymen. Named after Quarry Bank High School, the group was established by him in September 1956 when he was 15, and began as a skiffle group.[28] By the summer of 1957 the Quarrymen played a "spirited set of songs" made up of half skiffle, and half rock and roll.[29] Lennon first met Paul McCartney at the Quarrymen's second performance, held in Woolton on 6 July at the St. Peter's Church garden fête, after which McCartney was asked to join the band.[30]
McCartney says that Aunt Mimi: "was very aware that John's friends were lower class", and would often patronise him when he arrived to visit Lennon.[31] According to Paul's brother Mike, McCartney's father was also disapproving, declaring Lennon would get his son "into trouble";[32] although he later allowed the fledgling band to rehearse in the McCartneys' front room at 20 Forthlin Road.[33][34] During this time, the 18-year-old Lennon wrote his first song, "Hello Little Girl", a UK top 10 hit for The Fourmost nearly five years later.[35]
George Harrison joined the band as lead guitarist,[36] even though Lennon thought Harrison (at 14 years old) was too young to join the band, so McCartney engineered a second audition on the upper deck of a Liverpool bus, where Harrison played Raunchy for Lennon.[37] Stuart Sutcliffe, Lennon's friend from art school, later joined as bassist.[38] Lennon, McCartney, Harrison and Sutcliffe became "The Beatles" in early 1960. In August that year The Beatles, engaged for a 48-night residency in Hamburg, Germany, and desperately in need of a drummer, asked Pete Best to join them.[39] Lennon was now 19, and his aunt, horrified when he told her about the trip, pleaded with him to continue his art studies instead.[40] After the first Hamburg residency, the band accepted another in April 1961, and a third in April 1962. Like the other band members, Lennon was introduced to Preludin while in Hamburg,[41] and regularly took the drug, as well as amphetamines, as a stimulant during their long, overnight performances.[42]
Brian Epstein, The Beatles' manager from 1962, had no prior experience of artist management, but nevertheless had a strong influence on their early dress code and attitude on stage.[43] Lennon initially resisted his attempts to encourage the band to present a professional appearance, but eventually complied, saying, "I'll wear a bloody balloon if somebody's going to pay me".[44] McCartney took over on bass after Sutcliffe decided to stay in Hamburg, and drummer Ringo Starr replaced Best, completing the four-piece line-up that would endure until the group's break-up in 1970. The band's first single, "Love Me Do", was released in October 1962 and reached #17 on the British charts. They recorded their debut album, Please Please Me, in under 10 hours on 11 February 1963,[45] a day when Lennon was suffering the effects of a cold,[46] which is evident in the vocal on the last song to be recorded that day, Twist and Shout.[47] The Lennon/McCartney songwriting partnership yielded eight of its fourteen tracks. With few exceptions—one being the album title itself—Lennon had yet to bring his love of wordplay to bear on his song lyrics, saying: "We were just writing songs ... pop songs with no more thought of them than that–to create a sound. And the words were almost irrelevant".[45] In a 1987 interview, McCartney said that the other Beatles idolised John: "He was like our own little Elvis ... We all looked up to John. He was older and he was very much the leader; he was the quickest wit and the smartest".[48]
The Beatles achieved mainstream success in the UK during the beginning of 1963. Lennon was on tour when his first son, Julian, was born in April. During their Royal Variety Show performance, attended by the Queen Mother and other British royalty, Lennon poked fun at his audience: "For our next song, I'd like to ask for your help. For the people in the cheaper seats, clap your hands ... and the rest of you, if you'll just rattle your jewellery."[49] After a year of Beatlemania in the UK, the group's historic February 1964 US debut appearance on The Ed Sullivan Show marked their breakthrough to international stardom. A two-year period of constant touring, moviemaking, and songwriting followed, during which Lennon wrote two books, In His Own Write and A Spaniard in the Works.[50] The Beatles received recognition from the British Establishment when they were appointed Members of the Order of the British Empire in the Queen's Birthday Honours of 1965.[51]
1966–70: Studio years, break-up and solo work
[
]
Lennon grew concerned that fans attending Beatles' concerts were unable to hear the music above the screaming of fans, and that the band's musicianship was beginning to suffer as a result.[52] Lennon's "Help!" expressed his own feelings in 1965: "I meant it ... It was me singing 'help'".[53] He had put on weight (he would later refer to this as his "Fat Elvis" period),[54] and felt he was subconsciously seeking change.[55] The following January he was unknowingly introduced to LSD when a dentist, hosting a dinner party attended by Lennon, Harrison and their wives, spiked the guests' coffee with the drug.[56] When they wanted to leave, their host revealed what they had taken, and strongly advised them not to leave the house because of the likely effects. Later, in an elevator at a nightclub, they all believed it was on fire: "We were all screaming ... hot and hysterical."[56] A few months later in March, during an interview with Evening Standard reporter Maureen Cleave, Lennon remarked, "Christianity will go. It will vanish and shrink ... We're more popular than Jesus now—I don't know which will go first, rock and roll or Christianity."[57] The comment went virtually unnoticed in England but caused great offence in the US when quoted by a magazine there five months later. The furore that followed—burning of Beatles' records, Ku Klux Klan activity, and threats against Lennon—contributed to the band's decision to stop touring.[58] [3][4]Lennon (right) performing "All You Need Is Love" with The Beatles in 1967 to 400 million viewers of "Our World".Deprived of the routine of live performances after their final commercial concert in 1966, Lennon felt lost and considered leaving the band.[59] Since his involuntary introduction to LSD in January, he had made increasing use of the drug, and was almost constantly under its influence for much of the year."[60] According to biographer Ian MacDonald, Lennon's continuous experience with LSD during the year brought him "close to erasing his identity".[61] 1967 saw the release of "Strawberry Fields Forever", hailed by TIME magazine for its "astonishing inventiveness",[62] and the group's landmark album Sgt. Pepper's Lonely Hearts Club Band, which revealed Lennon's lyrics contrasting strongly with the simple love songs of the Lennon/McCartney's early years.
By Wikipedia