The Max-Jude Relationship is the relationship between friends Max and Jude.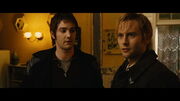 Jude first meets Max while he is looking for his father, Wes Huber. Later, when Max is fleeing from an angry citizen, Jude helps him hide. They get to know each other and later go to a bar, play pool, and golf on the Princeton campus while singing "With a Little Help from My Friends". Max invites Jude to his house for Thanksgiving, and later out for bowling. When they go to New York City, they live together in Sadie's apartment and Max pays the rent. Max is later drafted to the war, and Jude reassures Lucy he will be okay. After Jude is sent back to Liverpool, Max appears to him and sings "Hey Jude", inspiring Jude to arrange to legally come back to America to see Lucy. They hug when Jude arrives in New York and drive to Sadie's band's rooftop concert where Jude performs and sees Lucy.
Community content is available under
CC-BY-SA
unless otherwise noted.